The Heart of the Renaissance – Florence Introduction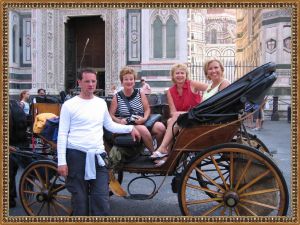 This is the ideal introduction to the magical Renaissance city of Florence. We will begin our privately-guided walking tour with a reserved visit to the Accademia Gallery which is home to Michelangelo's David – Florence's most treasured work of art and symbol of the city.
After our visit to the Gallery, we will walk through the ancient streets and charming piazzas of Florence. We will enjoy the exterior beauty of Brunelleschi's Dome and Ghiberti's Gates of Paradise which are located in the religious and historical center of the city. We will also stroll through the glorious Piazza Signoria and view the imposing Palazzo Vecchio on the square.

During this private exploration, we will also identify the Vasari Corridor – the Corridor was built for the Grand Duke to link his private home with his offices (the Uffizi). And finally, we will take in the astounding Ponte Vecchio – the oldest surviving bridge crossing the famous Arno River.
Throughout this splendid adventure, we will discuss the Renaissance and its famous artists, the incredible Medici family and the impact of this impressive era – which all began in Florence.
Renaissance means "rebirth" – after this amazing journey, you will be revitalized by the rich cultural history of this enchanting city.
* In order to save time and avoid long queues, Customized Italy will coordinate the reservations of the entrance tickets to the Accademia Gallery.